This is what Our Team Thinks of Our Company
The CCI culture truly defines who we are, what makes us different and why our team is able to better serve our clients.  We hire people who thrive on reverence for others and possess a passion for creating amazing structures. Our team values great relationships and works eagerly towards our vision of making every client into a "Raving Fan". Not to mention, they are some of the most talented builders in the business. That passion is evident in the work we do on your building as commercial general contractors. Every member has an inherent interest in every project, and a stake in the finished product.
Value, Relevancy, Purpose
We have high expectations of each other and work as a team to build projects we are all proud of.
At CCI, we work diligently to foster the extreme success of every person here. Their purpose is primary, and we nurture their goals by requesting employee input and involvement at all levels.  We gather together quite often and we communicate constantly as it's a necessity to serve our clients at this level. We meet in conference rooms, offices and on site, just like you would expect. But we also share a meal and trade ideas, concepts and experiences. Without this synergy we would be just another contracting company.
Our employees are charged with bringing integrity, commitment, and intellectual precision to each project and they are happy to do it.
This culture has allowed CCI to become a leader as commercial general contractors.
"
When people are emotionally invested, they want to contribute.
"
Simon Sinek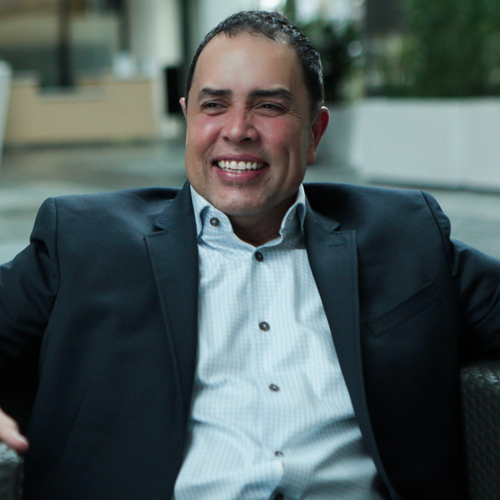 Carlos Cruz
"Whether you say you can or you can't, you're always right."
There is no doubt that the success of CCI is dependent upon its winning team.  At the heart of our passionate organization is a champion who leads by example and inspires those around him to reach beyond the limits of their own imagination for personal and professional achievement.
Through his vibrant entrepreneurial spirit, progressive style of culture building, forward-facing communication skills, and relentless commitment Carlos creates much more than just structures. Mr. Cruz is the leading force behind this new era in commercial building, bringing his dreams of re-shaping an old industry to reality. He has positioned CCI to become one of the most sought after design-builders in Southern California.
Carlos inspires those around him to possess reverence for others and passion for creating amazing buildings. The team value he instills helps foster great relationships inside and outside the company. This foundation of interpersonal communication skills drives CCI everyday towards the goal of making every client into a "Raving Fan".
He works diligently to foster the success of every person here. To Carlos, their purpose is primary, and nurturing their success and loyalty is simply second nature to his upbringing. Cruz credits his mom for forming the foundation of his character. "My mom taught me to love people and encouraged me to communicate lavishly."
Carlos has an innate ability to master new technology, with a focus on the implementation of procedures for commercial design. He provides strong supervision of the design and construction teams, working to meet the demand in today's market. He develops deep relationships within city agencies to help expedite the plan design approval process.
As a leader he ensures that each person on every build is focused on meeting or surpassing the project objectives. Carlos is only interested in delivering quality buildings that will achieve or exceed the forecasted benefits. Mr. Cruz is accustomed to overseeing multiple projects, providing leadership and direction while keeping a sharp eye on details and budgets. He is flexible and versatile and thrives on deadline-driven environments.
His history of high-profile projects include  Target, Cost Plus, LA Fitness, Ikea, Vons, Ralphs, Food 4 Less, Sprouts, Gelson's, Pavillions, Smart & Final, and Old Navy.
Aside from his insatiable passion for building teams and structures, Carlos is fanatical about traveling with his family. "I love to travel because it's some of the best education out there. I grew up wishing I had been born before Lewis and Clark," Carlos Shares, "I love calendar multiple travel events as far out as possible, and then reap the rewards of anticipation for the upcoming experience"
Education:. Chaffey College, Business Administration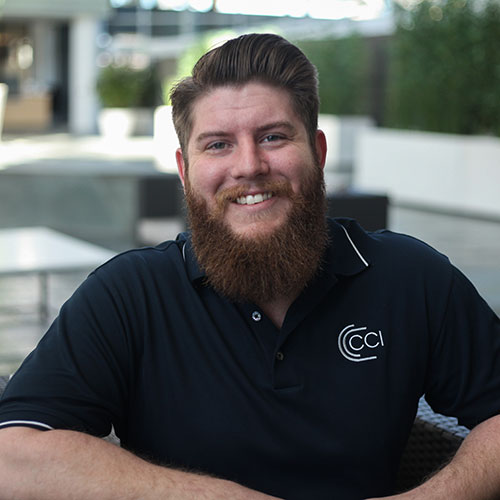 Michael Frazier
Position:
Project Engineer
"What I like most about CCI is the work environment. It is family-like here at CCI right from the beginning. Everyone is supportive of my everyday tasks and we work together with the common goals in mind. We all have each other's back. We even spend casual time as a group with dinners being one of my favorite activities. We celebrate our projects like Birthday's. When the completion date of a project arrives we gather, eat and laugh. Yes, building is fun and I am so glad that we get to enjoy our work in that way."
As a Project engineer, Michael is an integral part of the team and assists in planning, executing and managing with accountability for scheduling, cost control and safety on multi-million dollar projects. He is responsible for controlling budgets, providing day-to-day communication with the project team to ensuring that jobs remain on schedule and within budget. Michael holds an excellent track record of strong working relationships with owners, architects, and engineers. He works closely with the Project Manager in dealing with technical and contractual issues. Compassionately known as the "Sniper", Michael is known by the team as the guy that can analyze a challenge, target the cause, pinpoint a solution and execute the resolve.
Michael started his career in construction right after college remodeling some of the busiest restaurants in the US. His skills grew quickly and was soon scooped up by specialty construction company that built massive walk in freezers and coolers all over the US, some costing up to $3 Million dollars. He went on to be a Field Superintendent/Project Manager building fitness gyms across California.
His target-like approach to life stems from his background as semi-pro baseball player. His humble personality hides this little known fact, but Michael played catcher and was able to throw down to 2nd base with a pop time of 1.8 seconds at 80+ MPH.
Now when the week is over you might find Michael climbing a mountain in search of the ultimate camping spot. He is a passionate hunter and loves the thrill of tracking and chasing game and in marksmanship. On very special weekends you might even find him in a shooting competition with 100's of other devoted sharpshooters.
Education: University of Dubuque, Iowa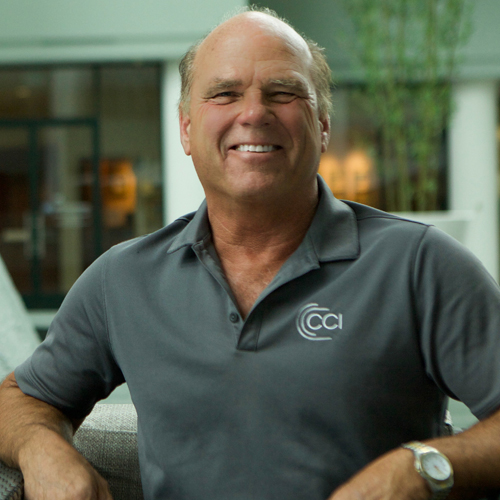 Rick Fox
Position:
Senior Superintendent
"What I like most about CCI are the people that I work with. We have each other's back and work towards a common goal."
Rick's day quite often starts with the greeting "Hey Big Daddy" from one of the crew. Rick has rightfully earned that title from his peers with over 3 decades of complex project management under his belt. He is a results-driven builder with experience-based knowledge of commercial construction operations. He is adept at conveying complex building concepts in a simple and compelling manner, while leading personnel through daily tasks and ensuring the highest performance for each project.
Rick represents the heart of CCI, but the Senior Superintendent quickly shrugs this off. "I just treat everybody like I would want to be treated," he says. "I make sure my team members know that I appreciate them greatly. They help me prove to my clients how special they are, so they never have to look elsewhere."
His career milestones include the St. Regis Monarch Beach Resort and Spa, a $250M, 22 acre, five-star resort. Rick also oversaw the completion of the Hollywood Back Lot project including buildings, walkways, landscaping and underground utilities as Superintendent for the $1.4B project.
Rick holds a California State "B" Contractor License, is OSHA 10 and LEED Certified.  He is also a member of the U.S Green Building Council, Orange County Chapter and a member of the Sustainable Home Committee in Orange County.
On any given weekend Rick makes his second home in the outdoors. You might find him barreling down Kern River in his kayak. Or, On more peaceful days, behind the barrel of his shotgun chasing dinner.
Education: Saddleback College, Santa Barbara College.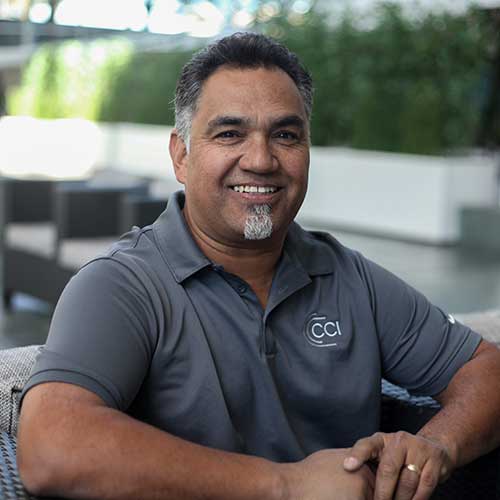 David Aguilar
Position:
Supertintendent
"I made a hand shake deal with the owner to come on board and he honored it. The group here is all about helping each other succeed as a team. The magic begins at the top with the founder, Carlos Cruz. Carlos is a motivator and leader that is willing to do what it takes to make the employees and customers feel like an equally important part of the team. CCI has a great foundation built upon high standards of quality. As good as we are, I am always amazed to see that management is constantly looking for ways to improve the process, customer deliverables and internal culture. To me leadership and integrity is what makes CCI stand out from the others, and maybe the most amazing part of all? It's a fun place to work!"
David believes that great partnerships throughout all levels of the project allow for better use of resources. Internally and externally, he helps build these relationships fostering open communication with a focus on making sure that the information needed to ensure an excellent outcome is freely shared. "Come talk to me", says David. "The only mistake you can make on my project is failing to communicate. Everything else we can overcome."
David supervises all the trades for every project. Back in the late 80's you might have found him wrestling some 2 x 4's to the ground or convincing a 1000 lb truss to spend the rest of it's life 18 feet in the air. Today you will find him grueling over site plans, daily reports, writing job schedules, holding safety meetings and strolling methodically about the project site and reminding everyone that the proof of success for every job is in the details. David should have his own entry in Wikipedia, under getting things done RIGHT.
David brings a vast amount of experience in development and implementation of projects on large, multi-phased commercial and hospitality projects. His experience includes work on properties for Wells Fargo, Union Bank Of CA, Togo's, Yogurtland, Sport Clips and more.
If you ever eat at the Water Grill next to the famous South Coast Plaza in Costa Mesa you can thank David for helping to create an environment like no other. Copper lined bar tops, dramatic reclaimed wood beams and a massive glass oyster bar housing thousands of pounds of ice and deep sea treasures are just a few of the fine features created by experts like David.
Hunting and fishing are David's two passions. Late in the year you would find him waiting on top of a mountain ridge at sunrise, wedged inconspicuously between a rock and some unsuspecting prey with a rifle on his shoulder. David says. "California, Utah, Arizona, Colorado and Wyoming all know me as Super Dave (The Deer Hunter)"
Education: Rio Hondo College; Mechanical Drawing/Architectural design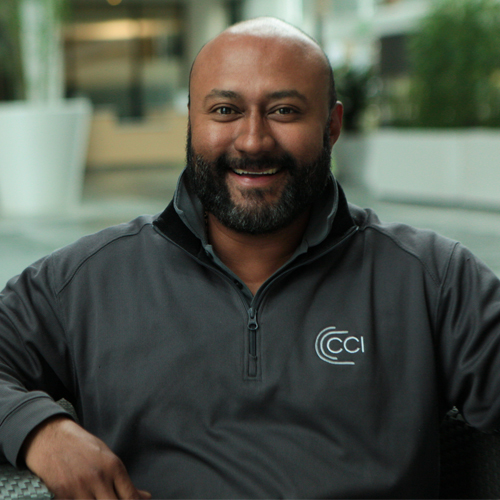 Don Castellon
"What I like about CCI is the fact that it is a little company doing big things"
Don Castellon is a Project Superintendent for CCI's commercial contracting services. He is responsible for the coordination of all field activities on the construction site and worker health and safety. Making sure that our clients projects are delivered as promised is one his top priorities. His daily responsibilities include subcontractor coordination, supervising operations, ensuring quality and monitoring the schedule.
Don has experience supervising the successful construction of various types of construction projects including medical, commercial office, interior alterations, parking structures and educational facilities.
Don has held a California Licensed General contractor "B" & Electrical "C-10" since 2000. He is a US Army Veteran who has served 2 tours of duty with a rank of "E-5 Sergeant".
After seeing construction rod all week Don likes to wrestle a fishing rod on the weekends. He enjoys sport, saltwater and fresh water fishing. He loves big fish but admits he has always wanted to get closer to the action. He plans on traveling to South Africa one day to fulfill his lifelong dream of swimming with the great white sharks.
Education: Pasadena City College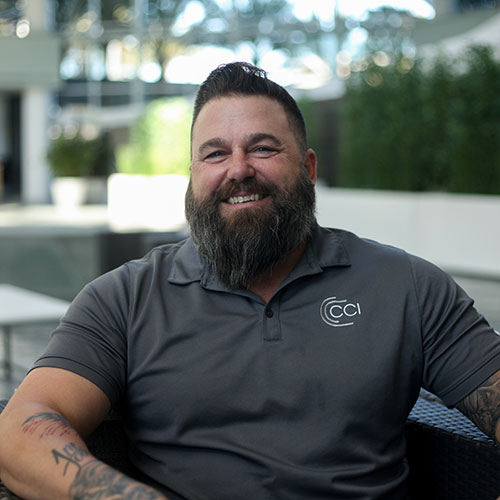 Daniel Kimberling
Position:
Asssistant Superintendent
"CCI brought me in and immediately made me feel like part of the family. The entire team, not just management, offers support and leadership like I have never experienced. I feel like I can my focus on my path to a successful and prosperous career."
Daniel provides on-site supervision under the direction of the Senior Superintendent and Project manager. He helps lead the efforts of both regular employees as well as subcontractors. He communicates with subcontractors and field staff to ensure adherence to schedules, plans, and specifications. His guidance and leadership skills are used to help make sure that tasks are carried out in a safe, compliant and efficient manner. Diligence is one of Daniel's core strengths which he uses to help ensure quality work within certain deadlines and time-constraints. Finally, Daniel tracks and records the completed work and coordinates the inspections needed to proceed into the next phase of construction.
Daniel has served our industry for almost 2 decades in positions including Project Superintendent, Supervisor of Operations and Independent Contractor Services. He is CPR, OSHA, and Forklift Certified and has completed extensive Leadership and Management Studies. Above and beyond all the notable projects he has worked on, he is most proud of raising 3 children on his own through a balanced career.
When Daniel isn't following inspectors around the job site you'll likely see him chasing a little white ball around the golf course. He admits that quite often he finds his ball on the wrong fairway but his passion never wanes. "I do everything with a smile, no matter how tough the game. Life is a long lesson in humility."
Carlos Cruz David Vitton Rick Fox Barry Strubel Don Castellon Steven Rakich Jeff Bell Leticia Medina Mariana Gomez